+49 (0)7182 7967
info@future-magic.de
DE EN
Production, Distribution, Wholesale and Retail of Magic Products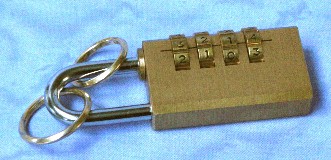 Locked Wedding Rings
Two borrowed wedding rings are tied up on a combination lock. No one can free the rings who does not know the combination of numbers! Trials prove this! The magician has the couple's wedding date told to him. This is set on the lock and releases the rings! Can be repeated immediately with another couple and another date! Even if it sounds impossible, everything happens as described!
(*) All prices include the legal value added tax, if necessary plus shipping costs and cash on delivery fee.
The magician borrows two wedding rings from a couple present and puts the rings on a padlock. This is a combination lock with four number wheels, each with the numbers 1-10. The number wheels are twisted and the rings are locked.
With the number of number combinations, it is impossible to free the rings if you do not know the correct sequence of numbers. The couple name the wedding date, this is set and the lock releases the rings!
Immediately, the effect could be repeated with another couple and another date.
Or you tie up a spectator's car key, they take out their car documents and the lock opens as soon as the MOT date of the car to which the key belongs is set!
The lock works for you and can be let out without hesitation. Nevertheless, everything is very simple so that you only have to concentrate on the presentation!
We offer you here a sensational prop with sensational effect possibilities at a sensational price!!! Solid brass, very good quality.