+49 (0)7182 7967
info@future-magic.de
DE EN
Production, Distribution, Wholesale and Retail of Magic Products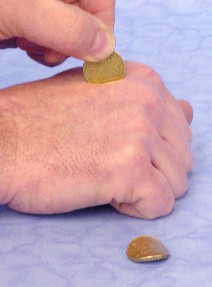 Super Coin Set 50 Cent with Bent Coin!
☆NEW☆
Coin effect that look like real magic and look like fantastic sleight of hand! For you, rehearsed in just a few minutes thanks to the richly illustrated, English instructions!
(*) All prices include the legal value added tax, if necessary plus shipping costs and cash on delivery fee.
You can take this description literally! Fantastic, even unbelievable effects are possible with the Super Coin. Start very simply: Reach into the air, make a coin appear. Nothing special yet, works with any normal coin. You throw the coin from one hand to the other, the hands are absolutely empty except for the one coin. Now double the coin! Still nothing special, would also go with any shell!
But then it gets really incredible. You throw both coins into the air, in the fall one of the coins disappears and only a fifty falls onto the table or into the spectator's hand!
That is already something special! But that's just the basic effect! You show the 50 cent coin, double it, throw both fifties in the air and one of the fifties turns into a euro.
The euro is put into the pocket, but in the next second it reappears with the fifty in the hand. Again the euro is put away, the fifty in the hand doubles again! They show both coins and throw them in the air as shown earlier.
Embarrassingly, the coins collide in the air, which one of them obviously doesn't survive unscathed and falls totally bent onto the table. Really, there is a totally bent coin on the table, which you can have examined immediately!
Many other effects are possible. For us, one of the bringers: the coin, standing vertically, is pressed through the back of the hand and appears in the palm of the hand!
We deliver everything complete and ready for demonstration, i.e. the Super Coin in the form of a fifty cent piece and the Bent Coin, i.e. the bent fifty. A little practice is required to amaze with the Super Coin, but we guarantee that the first customers to whom we showed this effect in the studio had rehearsed the dream effects described above within 10 minutes. The richly illustrated English instructions will help you.