+49 (0)7182 7967
info@future-magic.de
DE EN
Production, Distribution, Wholesale and Retail of Magic Products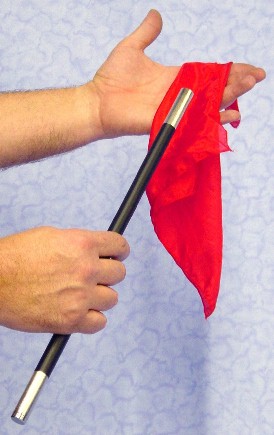 Flash Vanish
Rarely does the audience see an effect that comes so close to what looks like real magic. This is such a trick. You will be stunned yourself when you perform this trick for the first time in front of a mirror. Use a silk cloth from your last trick (side length no more than 20 cm) and throw it up into the air. Point a distinctive looking magic wand (black with silver ends, about 15 mm diameter, more than 35 cm long) at the silk cloth and at the same moment the cloth disappears without a trace. Believe me, this stops everybody in their tracks. We have seldom seen anything more magical. No strings, a trick presentable with people all around you, absolutely no explanation as to how it may have happened
(*) All prices include the legal value added tax, if necessary plus shipping costs and cash on delivery fee.
Rarely does the audience see an effect that comes so close to what looks like real magic. This is such a trick. You
will be stunned yourself when you perform this trick for the first time in front of a mirror.
Use a silk cloth from your last trick (side length no more than 20 cm) and throw it up into the
air. Point a distinctive looking magic wand (black with silver ends, about 15 mm diameter,
more than 35 cm long) at the silk cloth and at the same moment the cloth disappears without a
trace. Believe me, this stops everybody in their tracks. We have seldom seen anything more
magical. No strings, a trick presentable with people all around you, absolutely no explanation
as to how it may have happened